I
O

T for laundries: CLEAN VISIBILITY ON ALL TEXTILES
More value, less waste
See every piece of textile anywhere, at any time. When it is ready for washing, when it enters and leaves your laundry, arrives at your customer, and at every step in between.
RFID Tracking revolutionizes textile production at Medanta
"Nordic ID has provided us with a customized RFID solution that perfectly aligns with our service-based business needs."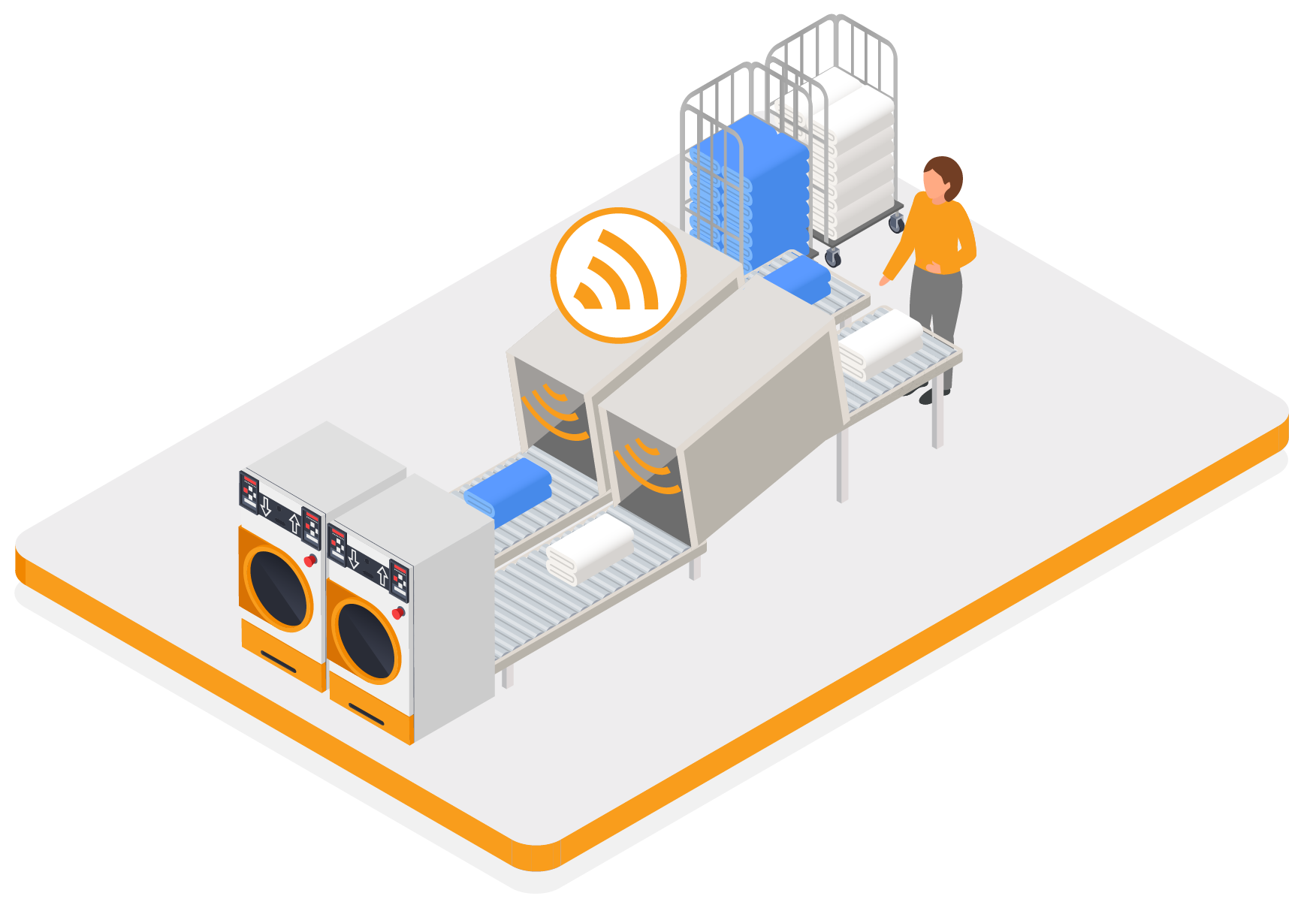 MORE PRODUCTIVITY
How much time do you spend getting an accurate inventory of workwear, linen and other washable items? All that counting can be automated fully, at any location with an UHF RFID reader, and for any textile equipped with a small, unobtrusive UHF RFID tag. Our dedicated UHF RFID solution for industrial laundries will automatically generate data that enable precise workload planning, automate time-consuming tasks, minimise human error, and increase asset utilisation rates, all while improving laundry lead times.
MORE BUSINESS
Once unleashed, a dedicated RFID Internet of Things (IoT) solution will start to increase fundamentally any industrial laundry's bottom-line.
Optimise item utilisation rate: wash cycles and histories per item can become visible automatically, reducing the need for manual quality checks and unnecessary disposal of items at predetermined intervals.
Reduce stock per customer: you will know where all of your items are and have full active and passive stock visibility per customer, which will enable you to reduce redundant stocks.
.
Track personalised items: personalised textiles become traceable at the click of a button because RFID technology can give any item a unique, digital identity.
Know when & where items are lost: you will be able to pinpoint item location more precisely for in-house retrieval, or you will have the visibility data to bill customers for lost items.
Drive when necessary:

you will know how many items are ready for washing at your customer, and when a pick-up makes sense to deliver on customer requirements.
Create new services: new business models become possible, such as laundry as a service, workwear as a service, or pricing per user.
Increase customer value: offer textile lending stations at your customers' premises to offer the right items at the right time, at the right place.
Offer enhanced textile compliance:

your RFID tags can alert customer employees to switch gear before entering a white room, enhanced hygiene, gluten-free, non-linting or other areas with very specific textile requirements.
MORE SUSTAINABILITY
Automated data, generated by RFID technology, also helps improve industrial laundry sustainability. For every unique item, triggers can be set that initiate quality checks after a predetermined number of washing cycles. The resulting waste reduction will enable savings, both on money and on emissions. Laundries can reduce emissions and cost even more by picking up textiles at customers when needed, instead of relying on frequent, pre-scheduled pick-ups.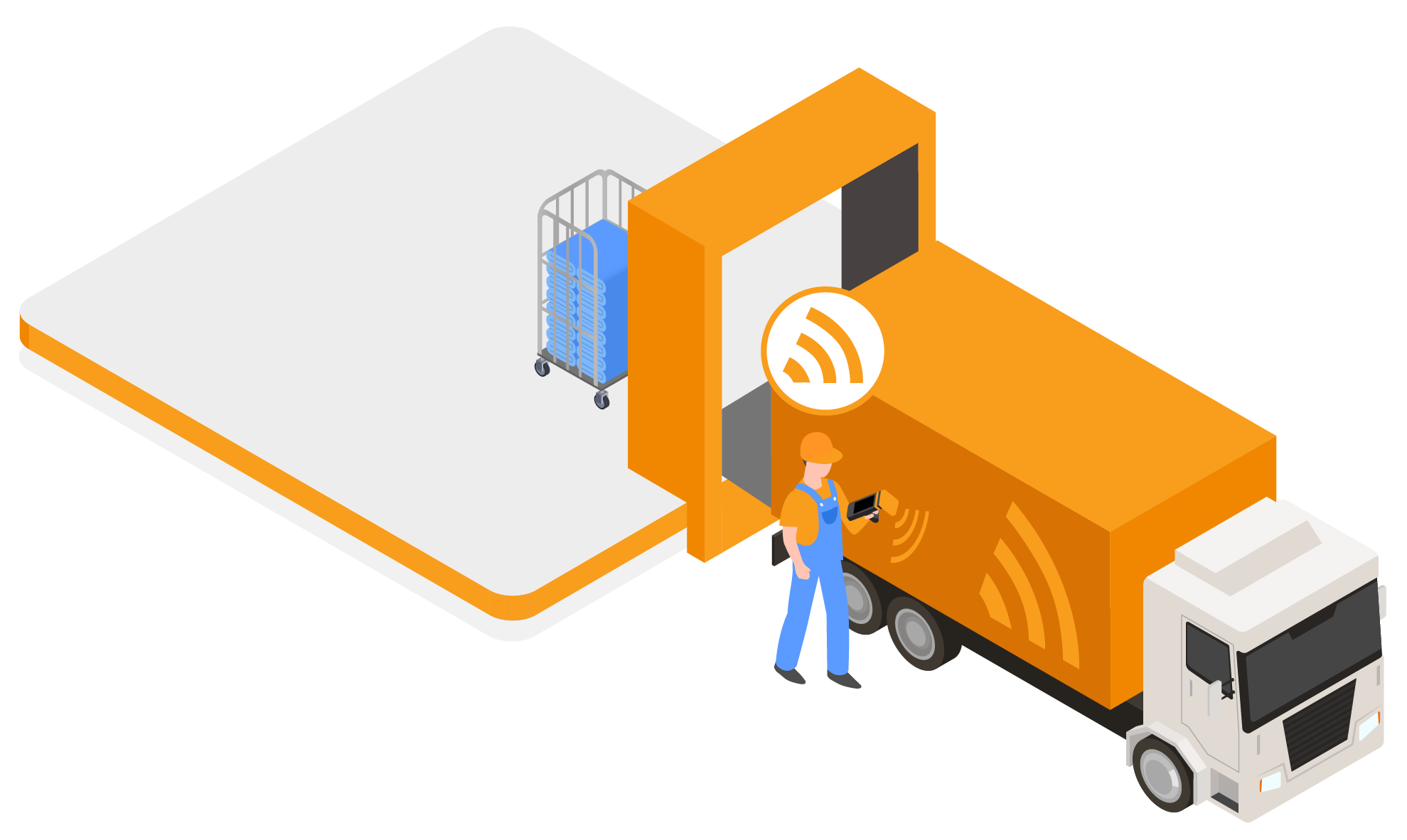 A DEDICATED RFID SOLUTION FOR INDUSTRIAL LAUNDRIES
Laundry IoT without a wrinkle
At Nordic ID, we have poured all of our experience with industrial laundries into a single, dedicated and highly efficient UHF RFID solution that, without a wrinkle, offers clean visibility on every textile. With our solution, laundries can increase productivity and generate more business, all while becoming more sustainable.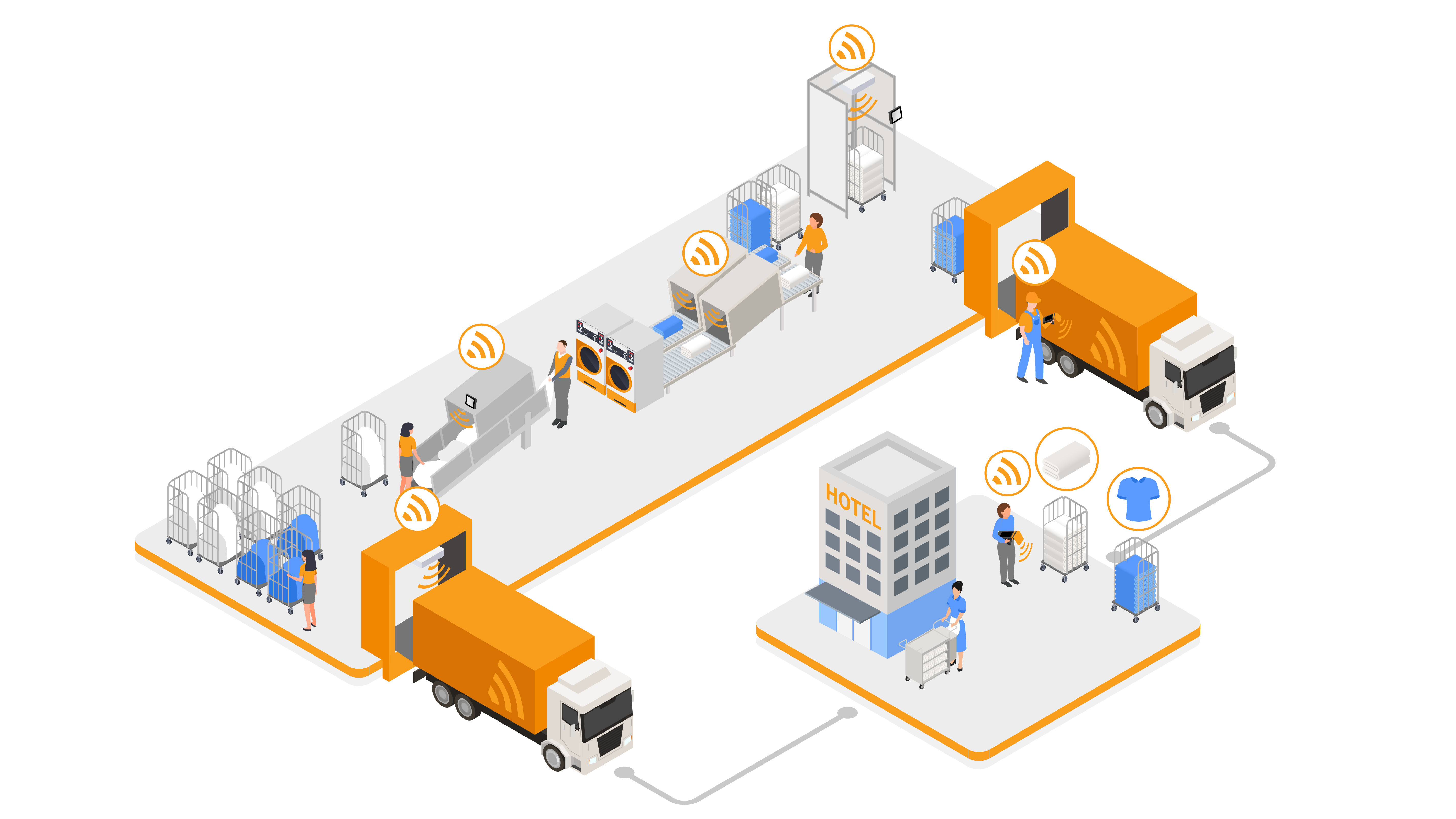 A true partner
Via genuine curiosity and an unwavering willingness to offer impactful solutions, we have been able to perfect our UHF RFID solution for industrial laundries. We understand the business, its added value and potential pain points, and we are confident our RFID solution offers a solid and future-proof response to both emerging and existing challenges.
The right tags
Depending on the items you wash, on read range and other requirements, our specialists will help you find the UHF RFID tags that are right for your business. Small or large, rigid or flexible tags, the landscape of possibilities in RFID is endless, and our specialists are the perfect guides.
Perfected hardware
Ever since our foundation in 1986, Nordic ID has been perfecting its UHF RFID readers and technology in close collaboration with our customers. As a result, our hardware is dependable in real world conditions, perfectly suited to accommodate our customers' changing needs, and 100% true to our mission: to bring a unique, digital identity to every item.
Dedicated software modules
Raw data from RFID tags and readers can be overwhelmingly complex to interpret. That is why we developed industrial laundry software modules to easily use any RFID reader. We just select the most suitable software module package for any type of laundry. Our software delivers the data in an easily accessible interface that quickly unlocks precisely what you want to know about ongoing operations.
Integration at your premises
We do not simply place some boxes with instructions at your doorstep. Our specialists will work with you to implement your UHF RFID solution every step of the way. They will make sure your readers capture the contents of entire rooms and spaces, of designated closets and stations or any other location that needs monitoring in your processes. Next, all data generated will be centralised and made accessible for your existing ERP system in a complete solution integration at your premises.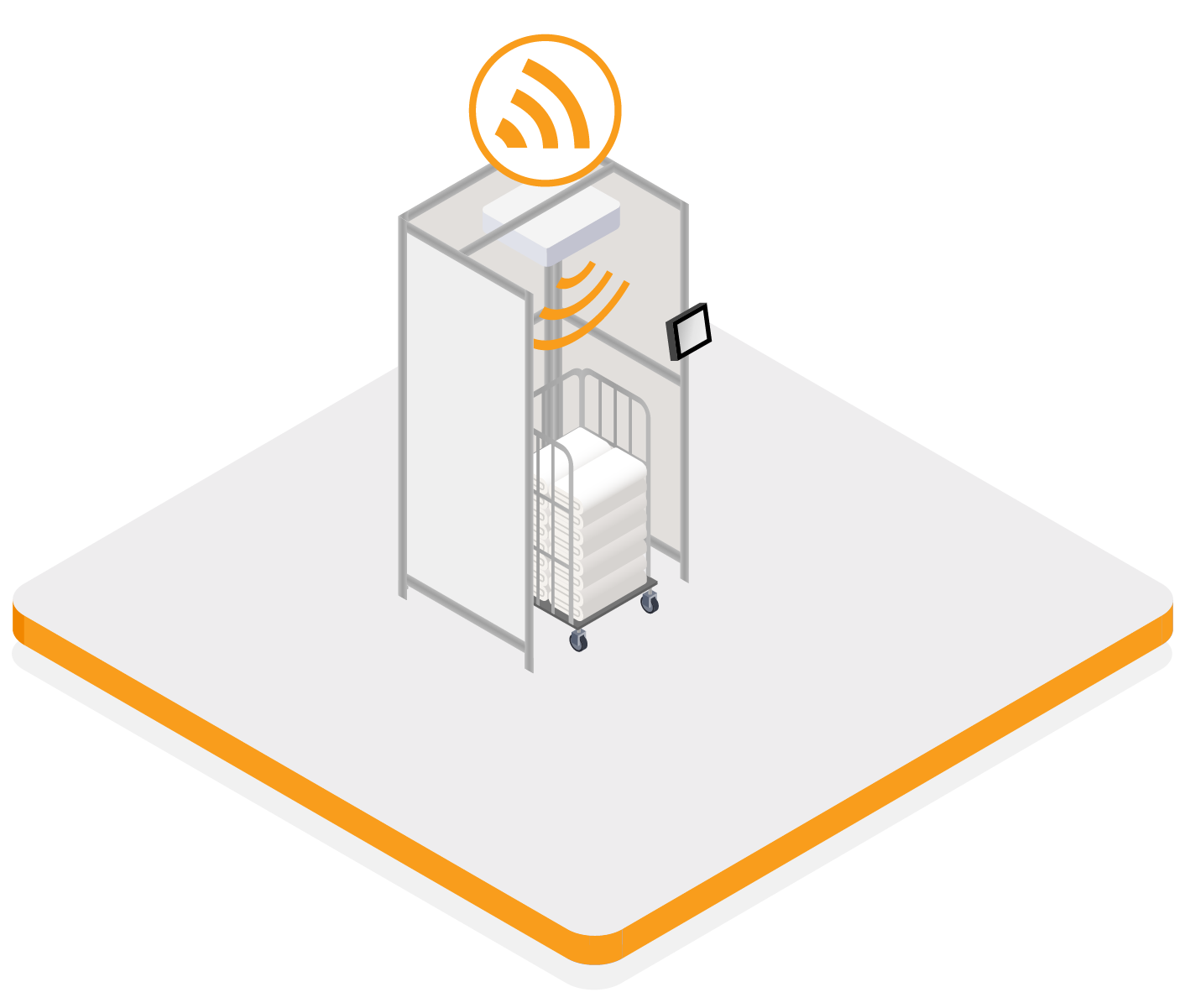 UPDATE YOUR OLD-FASHIONED LAUNDRY PROCESS TO THIS CENTURY
A lot of manual work. No clear idea of your inventory in your service center or in the customer's facilities. No accurate data on how many times items have been washed. Textiles go missing. Storage space is limited. Does this sound familiar?
These are some of the issues that industrial laundry businesses face daily. But there's nothing that a little bit of magical RFID technology couldn't solve.